1. First of all, the program. The French Championship always open to a partnership was receptive to take part in a round outside its territory and we are willing to continue this action. The cessation of the ESS, also convinced us to try to replace some of our traditional events by more meetings in the North of France to facilitate competitors traveling from all over Europe so that they keep pace competitions in Superkart. Germans and Dutch could find events at their door. Furthermore, the program is very complete.

We have reached an agreement to get to Zandvoort at a major event (12h series with GT), this event will replace the common race with the ESS at Hockenheim in previous years. Registration will be well through the website of the FFSA no extra cost (except private practices) and we will delegate our staff to ensure "good practices" of Superkart.

We keep Dijon in the season opener before the European campaign. We will try to open the paddock earlier. This circuit is particularly fully accessible to Germanic and Swiss drivers but should interest all other competitors. Remember that this meeting hosted over 30 drivers in recent years.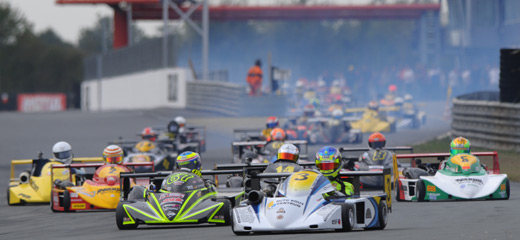 We decided to suspend -at least in 2016 - the popular event at Nogaro and replace it with new one; Incorporate a meeting on the renovated Ring; Anneau du Rhin (Biltzheim) on which the Superkart never rolled. The circuit is close to Mulhouse, on the other side of borders of Switzerland and Germany.

As for the British and the Dutch, they are not forgotten as we incorporate the meeting of Croix-en-Ternois in the Championship. It is certainly not the most technical circuit but its location and strictly Karting meeting are assets to persuade you to participate.
In sum > 7 events up this Open Championship open to all (6 FFSA events and 1 common FFSA/CIK). Serious, ethic and reliable Championship, following the international rules (CIK) and with a calendar almost fairly apportioned, which will help everyone to prepare for the three European rounds.
2. The Costs: There will be almost no increase for the entry fee per race (460€ each).The overall budget for the all championship (2220 €) takes account only the number of events (6 FFSA events instead of 5 in 2015) but this package saves more than one race in relation to the entry form race per race !!
3. Track-Time: In addition to innovation (Approved by the CIK) to increase from 2 to 3 the number of races per week-end, we try as possible to maintain maximum private or free practices during the meetings, therefore a maximum track time for you.
In sum > Private and free practice, two qualifications, often three races in each event, it is the most competitive drive-time in Europe !
4. The material: Officially approved equipment and/or new admitted CIK single-cylinder could score points. We have also validated a new "national" category which four-stroke registered" will be included. KTM 450cc for example may therefore join the other.
5. Cup of France: Following a British request, we intend to propose a Cup will take in parallel to the CIK race at Ledenon. It will be open to all those who will not or couldn't be admitted CIK event. Beginners, single-cylinder, equipped Rotax, Fpe-Rotax or Yamaha drivers, etc. all those who might be interested should emerge very quickly to validate this opportunity.
In conclusion: We have worked

to offer a more attractive program possible

to consider the innovations needed to allow the Superkart continue

to satisfy the most of French competitors but also Europeans wanting to be in a fair play spirit to satisfy our passion. These changes should encourage confrontation with a serious organization by offering a maximum track time for reasonable cost. We count on you to join now the only continental Championships and don't hesitate to get in touch for further information which will be found on https://www.facebook.com/Mediasuperkart.
Jean-Christophe Bourlat et Eric Sévère