Détails

Écrit par BOURLAT Jean Christophe
Création : 28 novembre 2013
Exclusive pictures new DEA single - (Many Thanks to DEA)
Some things must be said about this "scoop".
We have to be honest, we studied some Hondas to understand their outstanding points and their weakness.
We found that some Honda parts are, in our opinion, very good and available at a reasonable price.
I am referring expecially at the gearbox and parts like that.

We even disassembled some Honda engines that were ready to be trashed, but in which the gearbox was surprisingly still almost perfect.
So, even to keep prices the lowest as we could and to help those who still had an Honda, we decided to not manufacture these parts.
I am talking about the gearbox, clutch, ignition rotor etc.
This means that it is necessary that you acquire yourself these Honda CR250 parts, or that (if you want that we do the full assembly) you have to consider that the price with those parts will be a little higher compared to the price said above.
We decided to leave people free to choose what they prefer to do (even since there are still many people that actually uses Honda, still has these parts at their home and can continue to use them just taking them off their old engine and putting them in our), so spending more money would be completely unneccessary. We hope that this idea is appreciated.
So, what's inside the "standard" package?
Head, cylinder, piston, crankshaft, crankcase, balance shaft, clutch cover, water pump, water pump cover, etc.
All these parts comes designed especially for a superkart use, while the Honda was perfect for its original use but in the superkart world was just an "adaptation".
Hope to have given an idea.
For the price we still have to make the precise counts, however we plan to stay between the 3500 and the 4000 Euros
Main parts included in the price (engine packet)
- head cover
– cylinder head
– cylinder
– piston
– crankshaft
– balance shaft
– crankcase
– clutch cover
– water pump
– bearings
– oil seals
– exhaust manifold
Honda CR 250 parts that you can use
Gearbox and the clutch: you can use the one taken from Honda CR 250
Rotor and stator: you can use the one taken from Honda CR250
To keep the price low, we don't put in our "engine packet" the CDI, this because many still has it and still uses it on their Honda. Same thing for intake manifold, carburettor and airbox.
Same thing for the exaust, because usually the preparetors prefers to mount their own.
Parts that are not in the "engine packet" that we will make too
In a second phase we will make some other parts, too.
You can decide to continue to use the Honda/whatever or get ours, you are free to choose what you prefer. These parts are :
– DEA exhaust
– DEA silencer
– DEA CDI
– DEA intake manifold
– DEA carburettor
– DEA airbox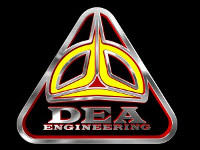 DEA Engineering
Via Pietro Nenni, 230
40014 Crevalcore (BO)
Italy
Tel. +39 051 6800318
Fax +39 051 6800617
Web site http://www.dea-engineering.com/
Email: Cette adresse e-mail est protégée contre les robots spammeurs. Vous devez activer le JavaScript pour la visualiser.