Détails

Écrit par SEVERE Eric
Création : 24 octobre 2011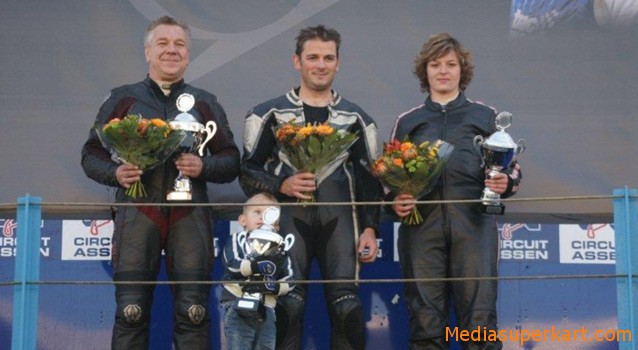 The Superkarts took to the Assen TT circuit for the final round of the British Superkart Division 1 Championship and the International Superkart Championship.
With Gavin Bennett already confirmed as 2011 Division British Championship, the runner up position would be closely fought.
Friday's free practice was mid afternoon. Daniel Hentschel set the benchmark for the remaining drivers with a 1:39.728 (164.42kph). Chris Needham was 2nd fastest nearly a second behind. The grid was going to be decided from the combined qualifying times from the 2 sessions, one on Friday afternoon and the second on Saturday morning.
Fridays timed session was late in the afternoon with dry track conditions. Marcel Maasmann was pushing from the green light and put in a 1:37.551 on his 4th lap. As the session went on the low sun was causing some drivers problems at the back of the circuit, with several drivers taking to the asphalt run offs areas. Chris Needham was the fastest British driver, posting 4th quickest time with a 1:40.001.
The Saturday session started at 10:00 and the general thoughts of the drivers was the session would be slower than Q1, with the ambient temperature at only 5 degrees. Marcel Maasmann was looking very relaxed as he sat in the pit lane for most of the session waiting to see if the times were better from the Friday session. As expected, only a few drivers went quicker in this session. Chris Needham improved on this time from Q1 with a 1:39.540 and was again the quickest of the Brits but Daniel Hentschel dropped in to 4th after missing out on the Friday afternoon session.
M Maasmann win race 1
The Grid for the first race is headed by Maasmann with a 1:37.551 a clear 1.2 seconds quicker than the other drivers.
Pole – Marcel Maasmann 1:37.551
Jurgen Reinke 1:38.820
Priscilla Speelman 1:39.380
Daniel Hentschel 1:39.382
Chris Needham 1:39.540
Race 1
Marcel Maasmann took a convincing victory in Race 1, the dutch driver controlled the race from start to finish whilst an action packed race unfolded behind him for the remaining podium positions.
From the start, an 11 lap battle commenced between Priscilla Speelman, Jurgen Reinke, Adam Kout and Chris Needham which provided the spectators with an excellent display of Superkart racing, positions changing lap by lap.
Speelman made a poor get away whilst top British qualifier, Needham, settled into 4th. Speelman pushed hard and eventually worked her way up to a well deserved second position whilst Needham found himself in 3rd ahead of Adam Kout and Jurgen Reinke. Meanwhile, Marcel Maasmann continued to lap 1 second faster than the rest of the field to build a 15 second lead. Adam Kout was a threat throughout the race, looking extremely confident on the brakes in his MS Superkart around the Assen circuit.
With 2 laps remaining, the positions looked settled until Needham began to slow as he tried to nurse home an engine water leak which let Reinke trough to 3rd. Speelman also then had problems and on the last lap here engine blew coming through the penultimate 130mph left hand 'Ramshoek' corner. This allowed Reinke to snatch 2nd on the last lap, with Speelman cruising across the line in 3rd. With Speelman only managing 3rd, the ISS championship goes down to the last race this afternoon.
Needham eventually had to retire whilst the other British contingents were putting on a good show. Charles Craven drove a clean race to finish 5th, 6 seconds behind the lead pack. There were impressive outings for Division 1 newbie Kevin Waring, finishing in 6th, Dave Harvey in 8th and Kevin Busby who recovered from an early race incident to finish 9th.
Mark Vaughan ran well in his single cylinder Anderson Honda, finishing 17th with 40hp less than most of his competitors and Simon Rushforth continues to progress well on his Spyda Pavesi, taking 19th across the line.
Event after the race, the action wasn't over as Jurgen Reinke's gearbox seized after taking the flag and he managed to complete a 360 degree spin down the Assen TT straight. I'm not sure Jurgen enjoyed it, but the crowd certainly did!
Race 1 Results
1, Maecel Maasman (NL) Andseson / FPE 11 Laps 18:06.462
2, Jurgen Reinke (DE) Anderson / DEA 18:21.402
3, Priscilla Speelman (NL) Anderson / FPE 18:21.687
4, Adam Kout (CZ) MS / VM 18:35.211
5, Charles Craven (GB) Anderson / FPE 18:40.860
Fastest Lap – Marcel Maasman 1:37.660 (166.02 Kph)
Daniel Hentschell win race 2
Race 2
Marcel Maasman led the field away at the start of Race 2 closely followed by a pack of karts consisting of Jurgen Reinke, Adam Kout, Chris Needham, Pricsilla Speelman and Charles Craven. But at the end of lap 1, Maasman returned to the pits with a misfire and Needham had retired with mechanical problems.
Speelman was next to suffer, with her engine only running on one cylinder she returned to the pitlane to replace a spark plug and with the championship at stake she was keen to get back on track; a bit too keen as it turns out as she was soon to return for a drive through penalty for speeding in the pitlane! With Speelman running at the rear of the field, and Jurgen Reinke now running 3rd (but needing to win) the International Superkart Series was going to the wire. Unfortunately for Reinke his chances were short lived as he became the next retirement of the race, along with Adam Kout, confirming Speelman as ISS champion.
Meanwhile, it was evident that Daniel Hentschel driving his Anderson DEA would be the man to catch. Hentschel, not able to show his true form in race 1 due to an incident early on, was lapping 1.4 seconds quicker than Tony Alghren who was now running second in his PVP machine.
British driver Kevin Waring drove superbly from the middle of the pack, finding himself in a comfortable 3rd position only to retire with two laps remaining, allowing Stefan Malm into 3rd place.
The next positions of 4th, 5th and 6th place were closely fought by British drivers Charles Craven, Dave Harvey and Kevin Busby who all drove to the flag within a few seconds of each other. Charles Craven, despite not feeling well leading up to the weekend, was the highest place British driver overall taking a 4th in race 1 and 5th in race 2.
Mark Vaughn impressed again, claiming 10th in his 250 National machine and Simon Rushforth was another British finisher, claiming 15th position.
Race 2 Results
1, Daniel Hentschel (DE) Anderson / Dea 11 Laps 18:17.131
2, Tony Alghren (SE) PVP / PVP 18:30.521
3, Stefan Malm (SE) Scherman / PVP 18:45.519
4, Charles Craven (GB) Anderson / FPE 18:50.200
5, Dave Harvey (GB) Anderson / FPE 18:50.370
Podium 2011championship ISS
Fastest Lap – Daniel Hentschel (DE) 1:38.131 (164.40 Kph)
Spécial Thanks
Rob Wilshire (Text )
Joop v/d Linde (Photos)