Détails

Écrit par SEVERE Eric
Création : 4 octobre 2012
Saturday 6 October for the eighth round of the 2012 Superkart season
The 250 Superkart brigade will make their first appearance of the year at the historic Kyalami Grand Prix Circuit on Saturday 6 October for the eighth round of the 2012 Superkart season.
The point's situation at the top of the table has changed dramatically after the last event. Sean Moore (Ziegler Racing PVP Superkart) is now only a solitary point ahead of championship rival Veron Pappas (Arma Gear Rotax Anderson Superkart). After not scoring any points in Port Elizabeth after his unfortunate accident, and being unable to race at the Kyalami event due to injuries that he is still recovering from, the 2012 championship title will swing in favour of Moore's arch rival.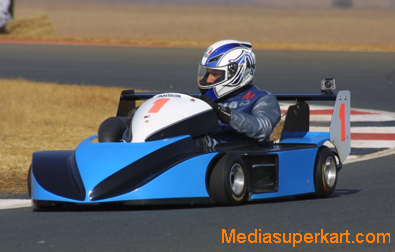 Pappas' chances of holding onto the number 1 plate are looking a lot better...
Andrew Greenslade (Ziegler Racing PVP Superkart) is still in with an outside chance of challenging for the championship as he finds himself a further twenty eight points behind the leaders. His chances of moving into second position in the championship after the Kyalami event are almost certain as well. He will however be hoping for more luck and reliability to keep him in the hunt for a top two position in the championship.
Trevor Green (Super Tech Rotax Superkart) continues to hold onto fourth position despite a mixed bag of results at Aldo Scribante Raceway last month. His position is far from secure though. Eerik Horn (Johan Horn Transport PVP Rotax) has moved into fifth position and is only nine points behind Green. Tyron Davis (AVL Africa PVP Superkart) drops back down to sixth but is only three points behind Horn. The battle for fourth position in the championship is going to be a hotly contested affair for these drivers heading into the last three events of the season!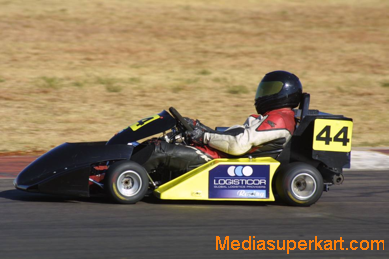 Green will be desperate to hold onto his current fourth position...
Vincenzo Casillo (V-Tek Service Centre Rotax Superkart) holds onto seventh position in the championship and will be looking to pick up a few extra points at this round.
Former 250 Superkart driver and current two wheeled ace Jason Wessels will be making a welcome return to the series for this event in John Amm's PVP Rotax Superkart. Wessels could very well cause a few upsets amongst the regular 250 Superkart fraternity.
The 2012 250 Superkart Team Championship is getting a lot closer now as well. Ziegler Racing (Moore and Greenslade) currently top the table on 461 points while Graham Singer Racing (Pappas and Davis) is only forty eight points behind the leaders. Moore's absence from the Kyalami event could very well see a new leader in the Team Championship after this weekend as well.
Make sure that you don't miss out on any of the adrenaline fuelled action!
Report by: Greg Reilly
Website: www.superkarts.co.za