Détails

Écrit par BOURLAT Jean Christophe
Création : 2 juin 2015
The CIK-FIA European Superkart Championship restarts in 2015 in its most classical format, a confronta¬tion based on three events, which seems the most appropriate formula sportingly. Let us recall that only the best five of the six results are counted for the title.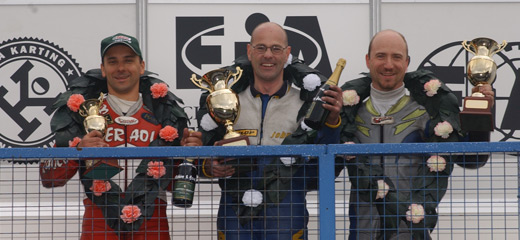 The first round is looming at Donington on 6th & 7th June 2015. This is a return to the British circuit that had hosted several events of the discipline until 2004. (Victory of the French B. Mahe).The field is compact with only 23 entered including nine drivers from the United Kingdom who will have the advantage of competing on their soil. This is not indicative of a rebound of entries at Le Mans (4th & 5th July) and Assen (1st & 2nd August) that will be the next two events in traditional and popular meetings.
Specification of Donington, a 3rd Superkart race, the British Superkart GP Race, regardless of the CIK event is scheduled.
We should see a rematch of 2014 but the first Competitions of the early season suggests
that three drivers figured as top favorites :
Firstly, the defending Champion, the French Emmanuel Vinuales (Anderson / VM) with three European titles to his name he shows how much he is a formidable competitor. But like last year he will race without having run in the off season. He nevertheless surprised everyone at the first qualifying at Assen in 2014 which was then the first round of the championship. His handicap may be a little more stressed as he is committed with a VM engine which he has not yet tested. His main opponent of last year, the Czech Adam Kout (MSkart / DEA) will arrive already well sharpened after his first victories of 2015 in France and Germany. Unlike the French Driver, the DEA engine has this time been tuned by the factory.
The third protagonist, capable of thwarting the plans of the first two mentioned, is the European Champion of 2008, the German Peter Elkmann (MSkart / VM). He has thoroughly tested since the beginning of the year with his hardware confi¬gurations and regularly stars alongside the Czech driver. He has also won in the two countries. Not only inaccessible last week-end at Ledenon, he mostly beat several times the track record, proof of its velocity.
Although the number of drivers is down, the level will be homogeneous, all are experienced. At the forefront of the serious contenders, there is the Briton Gavin Bennett, triple European champion (2008 – 2009 & 2010), always motivated, always involved with frontrunners except in case of failure and careful to make the most of his equip¬ment. For in principle his last season in Superkart, he will show that he remains a reference.
We should also monitor the 2014 revelation, the German Andreas Jost (Anderson / VM). He suffers back and it is perplexing performance in alternative mode of its engine but his progress regularly places among the first rows.
The Redspeed Team after a wonderful 2012 season has seen a slump. If the team is responsible for fewer pilots he knew prepare effectively regardless of the engine used. So, the Finn Vesa Lehtinen (Anderson/DEA) has returned to the podium this year. This is the team that also prepares Dutchman Marcel Maasmann. Vice-champion in 2012, probably the fastest of the drivers equipped with FPE engines. Do not forget the Dane Henrik Lilja each year on a podium. Representative PVP he enjoys all the attention of Poul V. Petersen. He finished 3rd or 4th in the final standings of the championship in the last four seasons.
Note the increase in the number of VM engine to become the leading provider front DEA